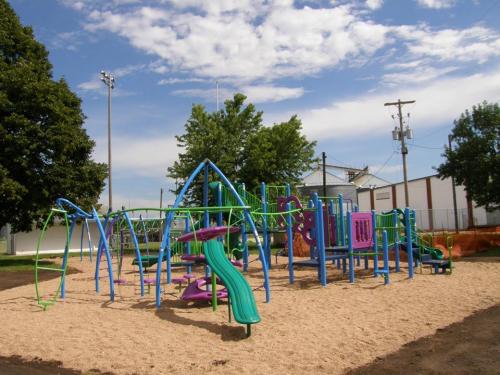 Tilden, with a population of 1,079, according to the 2020 Census, is located 22 miles west of Norfolk, Nebraska and is situated on the Antelope and Madison County line. Tilden was voted the "Best Place to Raise Kids in Nebraska" by Bloomberg in 2011.
Sunrise Park is a campground located on the east side of Tilden along 2nd Street. There is a bathhouse, water and electrical hookups with a convenient dropbox for camper payments.
The Tilden city playground, Richie Ashburn Field, and the public swimming pool are located one block west of downtown. Richie Ashburn Field features a baseball diamond and football field. The city park has newly upgraded playground equipment and swings. The swimming pool is open from June to August and offers swimming lessons, water aerobics, and pool parties in addition to day and evening open swimming hours.
Horseshoe Bend park is located at the west end of 8th Street. Horseshoe Bend has a baseball diamond, soccer fields, and additional playground equipment.
The Duck Pond is located on the west end of 5th Street and offers a picnic shelter and a quiet place for fishing.
The Cowboy Trail runs along Highway 275 through Tilden. The Tilden Spur Trail runs from the Cowboy Trail near the bridge on the west end of town and continues along Richie Ashburn Field, across the bridge near Tilden Family Medicine, and south until ending at Horseshoe Bend Park.
The annual Tilden Prairie Days event is held the last weekend of July. Prairie Days offers a wide variety of activities for everyone including, antique dealers, parade, Drag Your Nag competition, Broom Babes performance, barbeque, street dance, and car show.
Tilden has several local businesses including: Carhart Lumber Co., County Line Insurance, D & M Machinery, Elkhorn Valley Equipment, Heartland Veterinary Clinic, Tilden Pharmacy, Josh's Service, Lynn's Repair, LW Salon, Main Street Stylists, Midwest Regional Agency/Farmers Union Insurance, Old Buzzard Antiques, JB Mart, Players Club, Pollock Redi Mix, Quick Serve Oil Co., Rutjens Construction, Studio 108, Branding Iron Grill & Pub, Cornerstone Bank, Thriftway Market, Nielsen Insurance Center, Tilden Post Office, Will's Paint and Body.